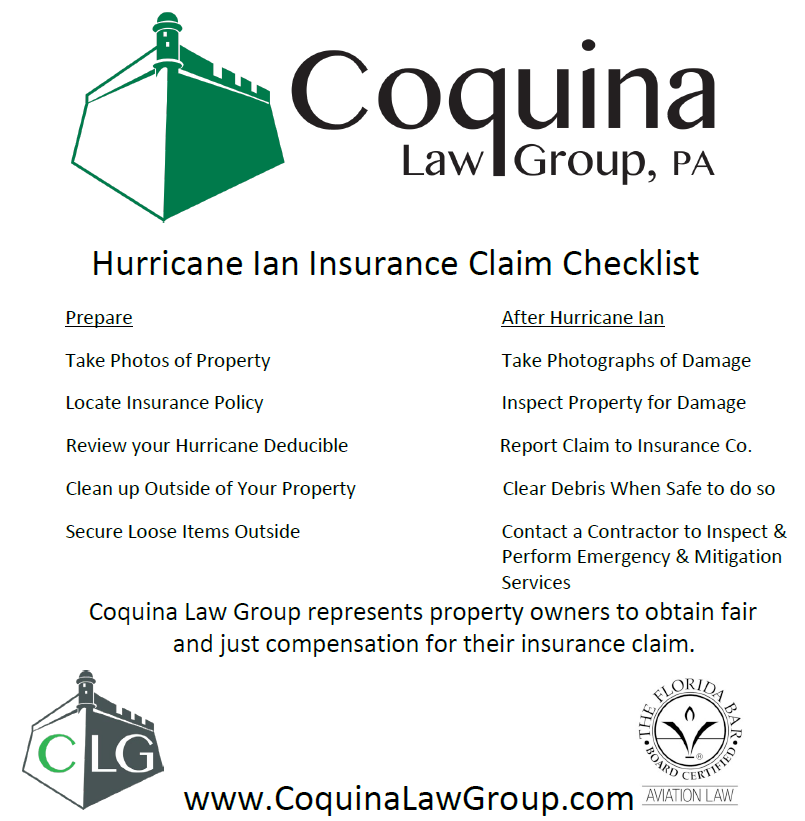 Hurricane Ian is on its way to Florida At Coquina Law Group, we have expereinced the struggles in our personal life as well as the struggles that our clients deal with during and after hurricanes. We want to help you be prepared in the event your property suffers damage. There are many things you can do to be better prepared and to get a faster better response if you expereince property damage and make sure you are covered throughout this hurricane season. Repairing your property after Hurricane Ian will go much faster the easier your Hurricane Claim is processed. Here is a great link to an interactive map with warnings, path, rain and wind estimates from the National Hurricane Center.
1. Locate your insurance policy information including Flood insurance and have your claim contact handy.  
The moment you know you have damage you should report myour claim to your insurance company.  Insurance companies do their best to get to you quickly, but if we have state wide damage or worse, multi state wide damage, it may take them a while to get an adjuster over to you.  If your insurer has online portal, make sure you have an account and can log in. Also, review your policy so you know what is covered. Florida Statutue 727.70 11 allows insurance companies to only pay the cash value of the claim with replacement value and law and ordinance only payable after proof of deducitble has been paid. Review your hurricane deductible and make sure you either have that amount in savings or atleast avialble credit for that amount. If you are unable to meet the deducitble, you can enter into a payment plan for the deductible with your contractor.  Look at the Hurricane provisions in your policy.  Take photographs of your property as soon as you get back to it or when it is safe to do so once the weather clears. Clean your yard, exterior of the home, tidy up the interior as if your having guest come over or listing it for sale and take pictures. These pictures will help you show the condition of your property prior to storm damage. Right or wrong, your claim will be more appealing to adjusters and a jury (if goes that far) if you can show the property was well taken care of and in good condition prior to the damage.
2.  Look up locally owned construction, roofing, and water mitigation companies. 
Locally owned companies have a stake in the community and a reputation to maintain.  If we take a hit, roofing and water mitigation companies will extremly busy so you will want to contact them as soon as possible.  Ask your insurance company about getting it tarped to mitigate damages. They may have a preferred vendor and some policies have discount or other incentives for you to allow them to manage and make the repairs, although this is rare.  Ask your friends, family, co-workers about companies.  Review their Facebook pages, social media and online reviews.
3.  Secure your property and get the yard cleaned. 
Getting outdoor furniture in, small pots and anything that can fly in the wind will reduce damage caused by flying debris.  It will also save you from having to replace small things that are under your deductible.  Having your grass mowed, limbs picked up will make clean up much easier.  Trim any branches that are close to your home or that could cause damage.
Does your policy require that you haul your boat out of the water, re-position your aircraft, or secure your property? Make sue you know what you have to do and who you can call to get assistance. Some boat yards have haul out services that you have to be on a list for and others are a first come first serve basis. Do you have a captian or pilot that can reposition? Find a compnay that will assist in boarding and securing up your property.
Take a survey of your proeprty. Take pictures of your property before the storm arrives. This will allow you to show the damage that was caused by Hurricane Ian.
4. Be prepared to go without electricity for multiple days. 
If you have a generator, make sure it is running, that you have fuel, and get it serviced. A home back up generator should test run every week. If you plan to rely on a portoble generator, take steps to make sure you know what you can hook it up to and what you can fun off of the generator. Many portoable generators will not be enough to run your air-conditioning. A whole home generator is usually 20K-26K generators, where a portable generator is usualy 2.5-5K. WheelerGenerators offers full home generators by Briggs&Stratton, Generac, Kholar, and Champion.
5. Be prepared with property mitigation supplies and essential supplies. 
Everyone knows to have flashlights, non-perishable food, and bottled water handy during storm warnings. However, some items and the reasoning might not be clear. When electrcity goes out you may need a flash light for around the inside of the home, but also to check damage outside and do emergency mitigationr repairs. You should have a tarp handy to cover your roof as soon as safely possible. A shop vac is handy to soak up small amounts of water that may enter around doors, windows, and small roof leaks. A head lamp will allow you to have a flashlight and full use of both hands. Candles provide good light as well. Keep your cell phones charged.
6.  Make sure your pets health papers are current. 
Verify that dogs and cats are up to date on their vaccines and have copies readily available for proof.  Some places will require this if you need to evacuate.
7.  Stay safe and be courtesy to others. 
Hurricanes can be stressful.  Be mindful that some may not have the resources to do what they need to be prepared.  Although you may feel your have expereinced a horrible ordeal, others may have lost everything, a loved one, or may have been struggling prior to the storm. Being courtious allows us to be the best version of ourselves, putting differences aside and help/love one another to come back as better community.
8.  Hire an Advocate 
Coquina Law Group is an advocate for you, the policy holder, to insure that your insurance company pays full value for your property damage. We have significant resources to assist you in making your claim, providing the required line-item estiamtes, obtaining an engineer to evalue and contest the insurance companies posistions and making sure your are paid correctly for your hurricane claim. We handl your claim on a contigency fee meaning we only get paid if we get you paid and if the matter gets to litigation, the attorney fees are part of your claim, meaning they are added to your damages. We obtain a written lien item estimate, communicate with your insurance company to obtain a copy of the insurance policy. When the claim is either denied or underpaid, we file the Notice of Intent to Litigate (NOI) witht the State of Florida and prepare your claim for litigation. We work hard to prevent your claim from going to litigaiton, however, we are prepared to fight the insurance companies all the way through jury trial to insure you are paid what is owed to you.